I thought I might as well post these two together as they're both about what books I'll be reading this weekend and throughout next week.
Naturally, my main read is A Game of Thrones; slowly hitting the half-way point – YAY! And loving it very much, although all the minor characters and characters that don't appear in the TV show but the book are very difficult to keep up with and remember and are just blurring together for me haha
Next Week is the October week of Year-a-Thon, running 6th – 12th and the theme is Stephen King and Horror so naturally I went for zombies and vampires and hope to get to these books and finish them next week!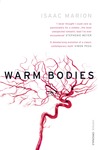 Finally, to give myself a little bit more freedom in my reading, I'm also going with a 'horror'-esque manga to read during the read-a-thon too!
Not Forgetting, this week's compulsory reads for uni;
On The Ch'ing Tributary System by J. K. Fairbank and S. Y. Têng
East Asia: Transition and Transformation Chapter 16 by J.K. Fairbank and Craig.
Same Time, Maybe Next Week!