I managed to finish a book earlier this week yay! But on the down side, I'm 4 books behind on my GoodReads Goal =[ luckily I've gotten all my work done early this week and am actually in a reading mood so; let's hope for progress! What I'm currently reading and focusing on is: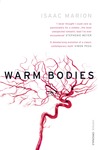 Also, tomorrow is Dewey's 24 Hour Read-a-Thon! and as already mentioned, I'm luckily in a reading mood. Seen as Warm Bodies is an easy book to read and the text is fairly big, that should be finished tonight/early tomorrow so then I want to read:
(I'm really not in the mood for supernatural/zombie stuff, so I'm not going to read my other 'Halloween'-esque book just now) And also getting through some more of GoT never hurt anyone, except the characters xD
Have a great weekend!!