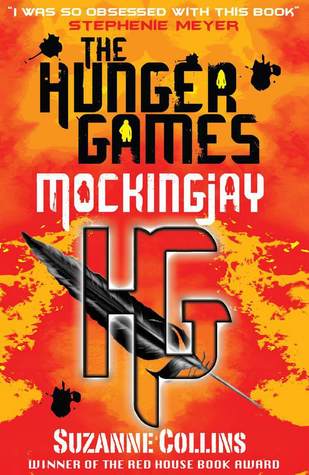 This is a reread for me, so you can read my original review here (original rating: 1 star). Now onto my review and feelings of it this time…
Quickie Review: 2 out of 5 stars.
I found myself reading it faster and enjoying it to an extent. I think because I'm older I was able to appreciate the politics, propaganda and the military strategies.
However, I wish Suzanne had extended on the Finnick telling secrets segment, I wish she'd written it out longer and told us a few. And like a lot of other people; it felt very rushed towards the end, around the last 100 pages just seemed to run instead of spreading out at the crucial parts. Also, multiple povs or 3rd person would've been better for this trilogy, I think.
Also, fuck Gail; he really is an ass in this. And Katniss still pisses me off. HATE how they skimmed over Finnick's last part so quickly -_- also 'I don't know why his voice reaches me when no one else's does' are you fucking kidding me Katniss? You're nearly 20 years old and you can't spot the fact a. you love him, b. he's given everything up for you and to protect you all this time that it's obvious that you'd believe him and no one else?! Now I remember why I gave it 1 star the first time I read it. And ONCE again Katniss misses all the fucking action -_- ANOTHER reason why I hate HG. 'And that's when another explosion went off' so you miss all the fucking best parts again of the capital losing! -_-
Overall, The story still has way too many problems with it concerning the writing, the telling and not showing, Katniss, the pacing etc. But it is definitely confirmed now that I am not a fan of the series. I think I still stand by everything I said in my first ever review of this book, just the reading experience this time was a little more enjoyable due to being older now to understand politics and such.
What did you think of HG series? Agree with me? (unlikely). Disagree with me? (most likely). Let me know in the comments below.