Hello my lovely readers and viewers! How was your month? I'm pretty proud of myself this month (let's not talking about RYBSAT though okay?)! Not only did I stick to my TBR but I also finished some books and read lots of pages (for me)! ^_^
This year I started a excel sheet where everyday I'm writing in how many pages I'm read per day and per week. You'll see those stats below…
Wrap Up!
– The Last Battle by C.S. Lewis
– Sourcery by Terry Pratchett
– Kuroshitsuji (Chapter 101 = 23 pages)
– Shingeki no Kyoji (Chapters 64 and 65 = 90 pages)
Also:
– Progressed with A Game of Thrones the first 2 weeks (currently taking a break from it now. I'm feeling overloaded by it because I'm taking so long to read it) = 77 pages.
– DNF'd The Book of Tea – just wasn't going to be my (and I pun) cup of tea in terms of what I like to read.
Total Pages: 774 Pages!
Average Pages Per Day: 25 pages
Average Pages Per Week: 193 pages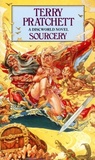 TBR

I'm currently reading City of Stairs (over 1/4 through and loving it so much since I got past the 15% mark!). I'm really in the mood to carry on with The Paper Magician trilogy by reading the next book The Glass Magician (however the final book doesn't come out til July so this may get pushed back) as well as in the mood to (re-try) read Magyk. Finally, 1984 keeps starring at me in the face, but I'm seriously too scared to start it even though I really want to! =/ Help me find the courage?
How did you do this month and what's your February TBR?! Let me know in the comments below!