Once again; HAPPY NEW YEAR!!
My reading in December was pretty amazing and impressive for me!
Wrap Up
Beauty Never Dies by Cameron Jace
The Paper Magician by Charlie N. Holmberg
MockingJay by Suzanne Collins
The Silver Chair by C.S. Lewis
Quidditch Through the Ages
Fantastic Beasts & Where to Find Them (joint review here)
All-Star Superman #1 (not worth a review)
16% of A Game of Thrones =]
Also caught up with Kuroshitsuji and Attack on Titan manga which means in December 2014 I read 1399 pages!!
TBR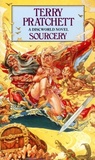 The Year-a-Thon is continuing this year and we begin the first one with Standalones hence the picks of 2 of these books.
As well as the BookTuber 'Bitten by Radioactive Book' is reading one Discworld book a month this year and starting with Sourcery and I said I would join in.
And of course things to go along with my 2015 resolutions; classics, reading ARCs, finish series.
What is your January TBR?