Hello my lovelies and I hope you had a great week (I spent it trying to learn to prioritise work and spent hours getting an essay done =[) and if you're participating in Bout of Books or Year-a-Thon then I hope you're doing well! Let me know your progress!
But now onto my #FridayReads… It's currently 10:37pm here and I was hoping to have read a significant amount of my book (as I sat down to read it at like 6pm) but I ended up having a 2 hour nap and just spent the past 2 and a half hours translating a magazine and doing fangirl stuffs. So, here is my rather repetitive but hopefully it should be a different track by tomorrow night #FridayReads!
I am over half way in the last Narnia book The Last Battle which means I have less than 100 pages to go and it really is an easy book to read – in fact if I spent the same amount of time reading as what I do trying to find music or a film to put on as background noise so I can read through it, I'd have finished like two books by now! Does anyone else have this problem?!
Also, I've only read around 32 pages of this book so far this week – blame essays and first week back at Uni! – but hopefully that will reach around the 100 page mark before the end of the weekend! I am nearly at 70% through which is exciting too!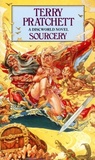 I know I should really be getting onto The City of Stairs next but I am itching so badly to get back into Discworld and so I will definitely be starting Sourcery next, however, I do see myself also starting The City of Stairs so I don't just have A Game of Thrones currently being read on my kindle so I have a variety to read at night (when I'm being naughty and reading in the dark and ruining my eyes so I can fall asleep!)
I've also been looking at my 'Winter TBR' that I set and noticed I've only read 2 out of the 16 books I put there! (list here) I have 12 (three of which are this months TBR!) of the books on that list, that are unread, with me at uni, and winter ends…. March right? *googles* March 20th! So I have a good amount of time to get through 12 books…
What are you FridayReads? What books did you finish this week?! What are you hoping to finish this weekend and into next week?! Let me know in the comments down below!
P.S. How do you all feel able me making a discussion about book pages and book lengths sometime soon? I have a discussion swirling in my head but don't want to post it if not discussion is going to happen =/