Good evening! Tonight I shall be looking back at the 2015 bookish resolutions I made and seeing how my progress is going. The resolutions can be seen in this post. Now let's see how well (or how badly) I am doing on my goals.
Part One: Minimum Goals
1. GoodReads Goal = 20 (I have read 6 books. 30% through my challenge and currently 2 books ahead – Success!)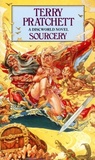 2. #Project5Books (3 books have been valid for this project. Not bought one book yet this year – excluding the one I needed for my academic studies! – Success! But it's killing me not buying books.)
3. Read 5 Classics (Not read any of the classics that were on this list yet – Failing.)
4. Read everyday (Minus the past 2/3 weeks this has been occuring almost every night – Success!)
5. Keep up blog (I personally think I've done pretty well in posting – Success?)
Part Two: Aim Goals
6. Read all Brandon Sanderson books pre-2015 (0 read so far – Failing!)
7. Finish ALL ARCS! (Two read but only read one was received before 2015 – Failing!)



8. Finish 4 Series/Trilogies (I've finished two! So 50% done – Success!)



9. Terry Pratchett (Only read one so far – failing!)


10. Out way manga vs books (Ratio has changed from 119 manga to 112 books (2014.12.30) to 119:118 – Success!)
11. Complete a November NaNoWriMo (N/A)
12. Physical books down to at least 40 (Read 3 physical so far, current physical books: 71 – failing?)
Insane Goals

13. #0by16 (According to GR I have dropped to 99 books for this challenge, but we'll break it down: 16 ARCS (-1) + 69 Physical Books (-3) + 13 Ebooks (+/-0) – failing?)
14. NPR's 100 Best SF and Fantasy Books Challenge (Not even looked at the list properly yet! – failing!)
Total Completed: 0
Another update in June/July! How are your resolutions going?