I've been quiet I know! But at least I remember to post Wrap Up's every month! I am thinking of doing a big Top Ten Tuesday post soon which will be a mix of any of the past TTT's that I've missed but want to do xD sound good? Okay! Now let's get into the Wrap Up!
Wrap Up
Heroine Shikkaku Volume 1
Heroine Shikkaku Volume 2
Orange Volume 1
Station Eleven – DNF'd (got 40% in, it bored me. It's not SF at all!)
A Court of Thorns and Roses – DNF'd (got two chapters in. The main characters bitchiness towards her sisters and how they treat each other seriously put me off teh book.)
The reason I haven't posted any reviews for these is because A. I want to do whole Manga reviews not just one per volume,and B. I see no point in reviewing DNF'd books on their own so I'll either not do them at all or I'll put them in one big 'DNF review' post thing. What does everyone think?
Currently Reading
I am currently reading An Ember in the Ashes and enjoying it a lot! I'm definitely more interested in Elias' story than Laia's but her story is interesting too, but things seem to be too convenient for her and I feel no real sense of danger in her story. BUT I am seriously enjoying it!

After this I was thinking reading one of the three things below:
Work on my ARCs (and finally have them all read, but that is like 30 books. But work through them and either read them or just cancel my review of them).
Brandon Sanderson marathon (the fact I've still only read The Final Empire by him is a freaking joke! Why haven't I read all his books yesterday even though I was blown away from the first book I read of his?! It's ridiculous!)
Read Name of the Wind – I've been listening to Pat Rothfuss' podcast these past few weeks and I love him as a person and it makes me wanna read his book even more!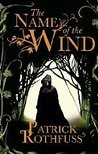 So what do you think I should do? How was your August and what is your Sept. TBR?