I have been neglecting this blog WAY too much and I sincerely apologise. If you've written any blogs the past three months that you're proud of and want me to see then please let me know, cos I want to read them!! So let's get this done!
January Wrap Up
 I read a bunch of shorter novellas in January so I could get an easy head start on my reading goal incase I feel behind (which already happened xD). I also finished the heartbreaker than is Orange and I intend to make a review of the entire series, as well as finishing Mistborn after a 3 year journey ❤ Reviews for the novellas can be found here but I still haven't made reviews for anything else just yet – sorry!
February Wrap Up

I had some down time with in February and took my time (not really cos I was hooked) reading The Martian all month. Review yet to come sorry =/
March Wrap Up
I marathoned and finished the last 12 volumes of Gantz this past week! I am so happy I'm finally done with the series after reading it for like 4 years xD I'll make an overall review of the series when I have time. In March I continued and caught up with Kuroshitsuji and Shingeki no Kyojin (I was about 4 or 5 chapters behind on both of them!)
Currently Reading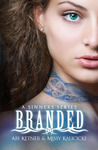 During March I started Elantris and I'm enjoying it a lot so far and I love how it's one a three-character-POV-cycle and I love the world and I'm excited to know more! I also started Branded this week (it's an ARC I've had for like 3 years!) and I have to say, I'm pleasantly enjoying yet another YA book. It's even had me want to cry at least twice too! Other than that I started two manga series in March too and still reading them. They are Makai Ouji- Devils and Realist (watch the anime last week and I intend to see the stage play of it in June!), and Oyasumi Jack the Ripper (already bought my ticket to watch the stage play of it on April 22nd so had to do my research and homework before watching it!).
—-
And that's my massive update done!! I am currently at 21 books out of 45 for my reading goal which is great but I understand some people would see ALL the manga and class manga as cheating but I really don't xD Once again I apologise for the lack of updates but I'm just so busy. If I'm not working I'm either reading, watching TV, writing movie/drama reviews, translating, studying or going to concerts/stage plays/musicals/baseball games. So I am very sorry!
What are you reading this month?