We're in June already?! Noooo! I only have about 7 more weeks left til the end of summer… but at the same time, ugh I've still got 7 more weeks left of summer >.< I participated in two read-a-thons this past month so check my progress out here and here.
Wrap Up
Shingeki no Kyojin Chapter 69
The One by Kiera Cass (2/5)
Avenger's Arena Issue 3 (3/5)
Avenger's Arena Issue 4 by Dennis Hopeless (3/5)
A Game of Thrones by George R.R. Martin (3/5) – just realised I haven't done a review for this yet!!

Vampire Knight Art Book by Hino Matsuri (5/5) – because it was perfect for a VK fan!
Kuroshitsuji Chapter 105
I also lemmed The Jungle Book and Car Fever this month too! Reasons being The Jungle Book caused me to have 'Friend like you' from the Disney movie in my head every single time I read and drove me insane. Car Fever was just too… car-like? xD
And I read about half way through the next The Grimm Diaries Prequels story (#4) and 244 pages of The Vampire Lestat.
Total Pages: 746 Pages! An amazing improvement for me =]
Day Read in Month: 21 out of 31 days
Average Pages Per Day:  35 pages
Average Pages Per Week: 186 pages
A pretty good dent and start to my summer reading! Almost already a 1/3 of the way to my desired 3000 pages read goal!
TBR
As already said I'm currently reading two books so they are naturally on this TBR…

After these, I seriously will start these three books. These three books I definitely must read with all my heart this month and I know I'll love them and I just gotta jump in!
And obviously the #YearofCosmere is going on so the books I'm supposed to read for this month are: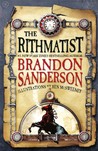 But we'll see if I get time after those three epics >.<
What did you read in May? What will you read this June? Let me know in the comments below!