Better later than never xD As I keep telling myself with everything lately haha
April Wrap Up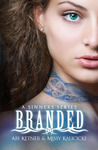 I was hella busy the last two or so weeks of April so didn't get much time to read but I did finish one manga volume and the book Branded, which I gave 2 stars to even though it had an amazing start.
May Currently Reading
For May I've already finished Elantris (which I LOVED!) and one more manga volume which I'll continue reading cos I'm seeing the Stage of it next month so I must be all caught up on i << that's how my OCD works xD I'm also still working on the Japanese version of Oyasumi Jack the Ripper which I like anyay but it's so weird!
And that's all. How was your April and May?